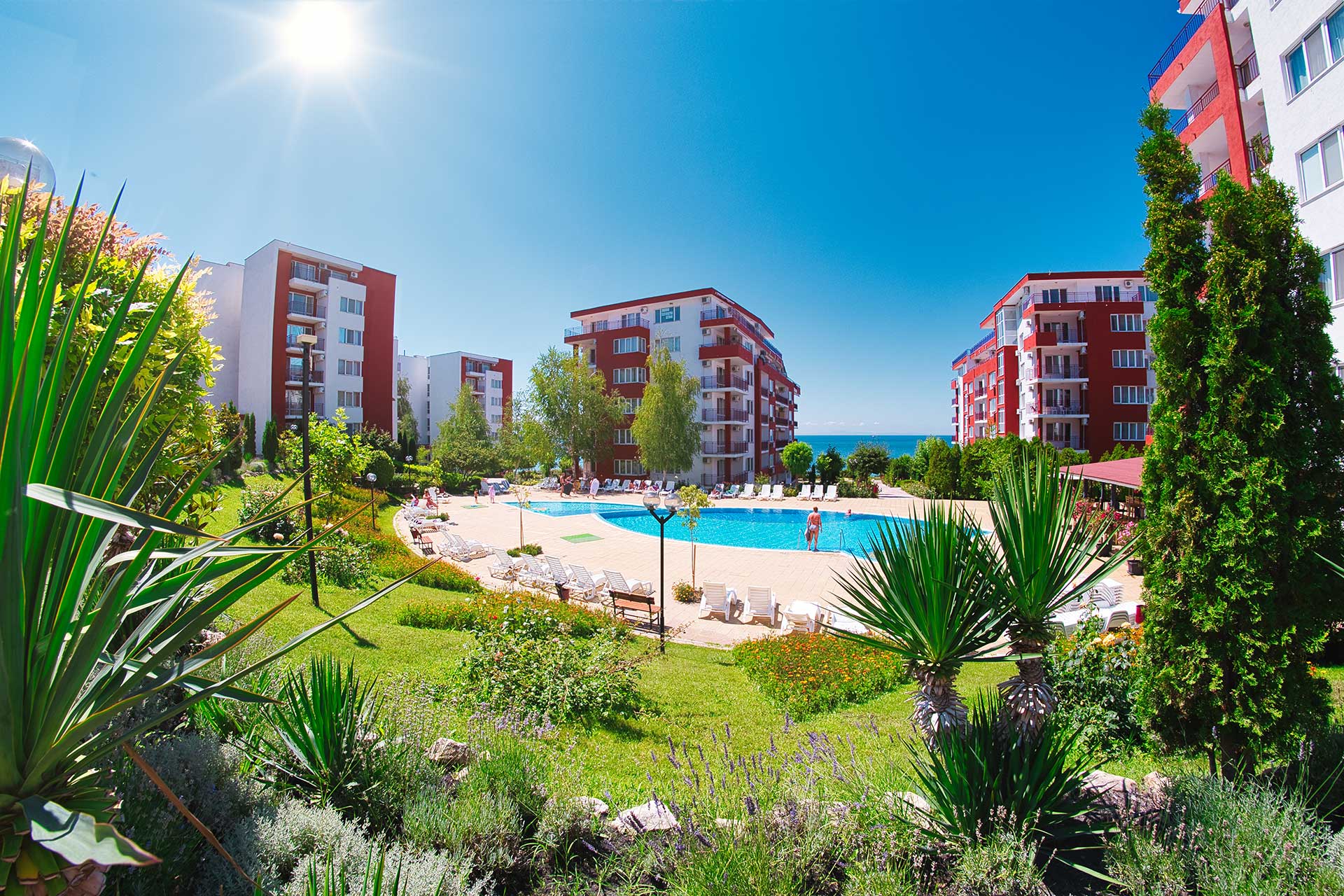 Fort Noks- Real Estate in Bulgaria
Fort Noks Ltd is established in 1995. During the years the company has been a responsible and reliable partner and became the biggest construction and management company in the Sunny Beach region. Our mission is to focus on meeting the needs of our clients by offering a wide range of holiday apartments, located in coastal holiday villages. We are committed to listening to and understanding our client`s requirements, providing professional and experienced staff.
Our complexes are located in the best Bulgarian seacoast resorts: Elenite, Saint Vlas, Sunny Beach, Ravda, 30-40 kilometers away from the Bourgas airport.
Buying from us will grant you not only a real estate investment, but the best maintenance and management service in the area. Most of our complexes are first line with restricted access with personal magnetic cards, 24 hours security and video monitoring. There will be nothing to think about except your vacation. The infrastructure of our complexes becomes better every year, due to the constant contact between us and our clients.
We are selling luxurious holiday apartments in our complex Prestige Fort Beach, situated between Saint Vlas and Sunny Beach. Premier Fort aparthotel – The Pride of Ownership – We are glad to announce the possibility of purchasing a real estate in the Premier Fort aparthotel. Really unique opportunity – an investment in a high-yield first line resort property. The Complex is designed for year-round living. All apartments are fully furnished, absolutely ready for living and renting in accordance with the tour operators standards and requirements. You can also find unique sea view apartments in our other complexes – near Elenite in Messambria Fort Beach and Privilege Fort Beach and in Ravda – Riviera Fort Beach. For the clients looking to buy in Sunny Beach we can offer Green Fort, only a few minutes away form the beach and all the attractions the resort is offering.
The apartments in Holiday Fort Club & Orchid Fort Garden are within the means of anyone's pocket, starting from 32 000,00 euro. The complexes are located right next to the Aqua Park and only 10-15 minutes away from the beach, by walk. There are nine pools, children and sports playgrounds and a lot of recreation area on site.
Our pride FORT NOKS GRAND RESORT is the biggest and the most developed complex in the area. It consists of five holiday complexes – Marina View Fort Beach and Panorama Fort Beach are first line, while Sea Fort, Crown and Imperial Fort Club are forming the second line. Both the sea and forest parts of this resort offer perfect opportunity for a family vacation. The total area of the resort is more than eleven hectares, half of which is reserved for many and different green areas. If you want to buy property on the Bulgarian seacoast you have to choose GRAND RESORT.
Deferred payment plan offered by Fort Noks Ltd.
When you are buying property from our company you can take advantage of our very profitable payment schedules:
Standard deferred payment scheme:
10 % of the price payable on signing of the preliminary contract;
The remaining 90 % can be paid with Fort Noks deferred payment plan:
up to 3 years deferred payment with 5 % annual interest
up to 5 years deferred payment with 6.5 % annual interest;
up to 10 years deferred payment with 9.7 % annual interest;
The apartment can be used /rented/ after 10% of the purchase price is paid. Signing of the Notary act takes place after full payment for the apartment.
In case of 100% payment at signing the preliminary contract – 2% discount of the purchase price
Fort Noks – real estate in Bulgaria: Bulgarian property, apartments for sale in Sunny Beach.
Fort Noks – your investment in property in Bulgaria.
Our other projects: офиси под наем (Offices for rent in Sofia), Отдых в Болгарии (Self catering apartments in Sunny Beach Bulgaria).